How to make your own serum!
I recently had the pleasure of attending a "Make your own serum" session with Conny Oberrauter from the Cosmetics Chef. Yes, you read correctly….we were going to make our own serum!
That's only possible because Conny is a qualified Cosmetics Chemist (you know one of those Lab Rats that formulates organic cosmetics?). Not only that, Conny comes with a list of accreditations, like being the past President of the Society of Cosmetics Chemists SA; VIP contributor at CiTE Japan 2015 and a Technical committee member of Cosmetic, Toiletries and Fragrance Association SA. So, we are dealing with one smart lady here.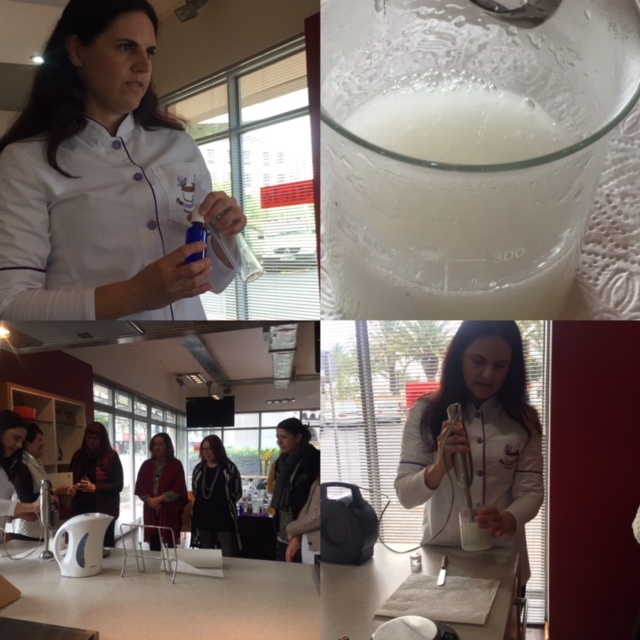 But back to the afternoon….I was there with a bunch of ladies who were very excited to find out how to make their very own serum (with active ingredients) in their very own kitchen! Conny was demonstrating with one of her "ready-made kits". These are kits with all the ingredients already measured out in them (and cost anything between R120 – R230) plus they contain real active ingredients in concentrations that you would generally not get in other products. It's kind of like U-Cook, where it all is delivered to you and you simply mix it up! How simple is that?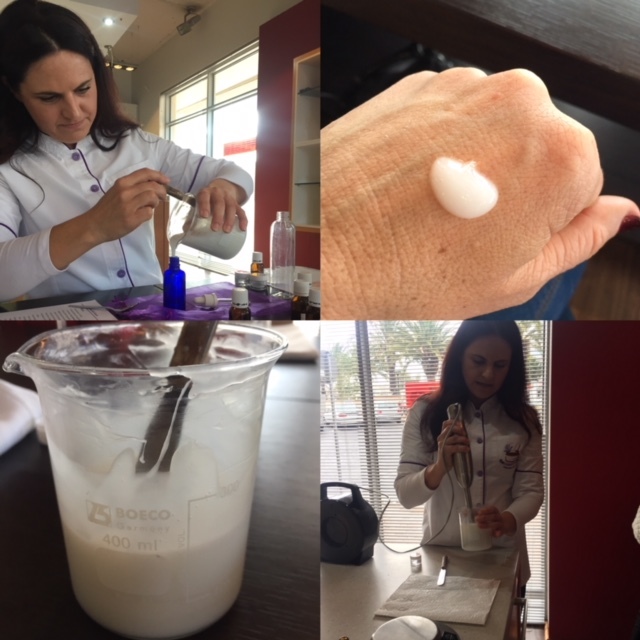 The recipe for the Serum was really easy and the entire process was done in just over 40 minutes, including letting the emulsion cool down. It is important at home to note that when you are adding active ingredients, to let it cool down, otherwise, you will "kill them off" before they have a chance to work.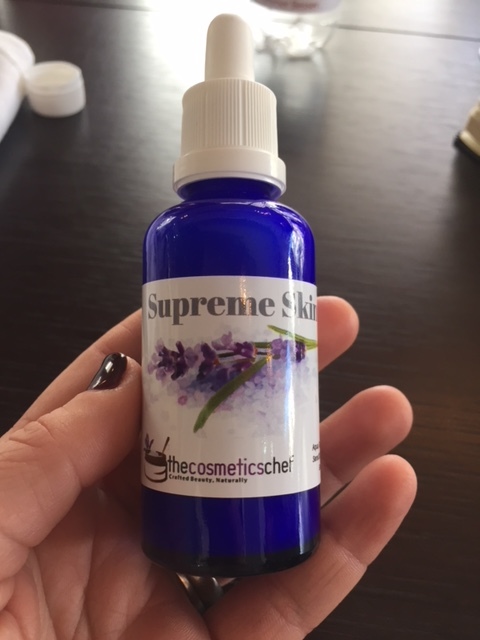 Our finished product!
Things I learned on the day
Conny is a wealth of knowledge and super-passionate about cosmetics and their make-up. There was lots of discussion (the benefit of attending a workshop) and lots of questions from the various ladies.
So, did you know?
Some products claim to have active ingredients in them, i.e. "enriched with Vitamin E", which means it may practically only contain 0.5% of the active. This barely does anything for you. So, check the label. Conny's home kits have between 2-4% active ingredients in them!
Preservatives: There is a lot of misrepresentation in the market about preservatives (esp. paraben) but these are very necessary to make your product last. A preservative basically prevents bacteria from growing in your product, which will cause your skin harm over time. BTW parabens used in cosmetics are totally safe and it's never been proven that they cause cancer in any way.
Most products that you make smell very pleasant on their own but if you like you can add essential oil, like Rose Geranium for fragrance. It's great to have this option, like some people, like fragrance-free products.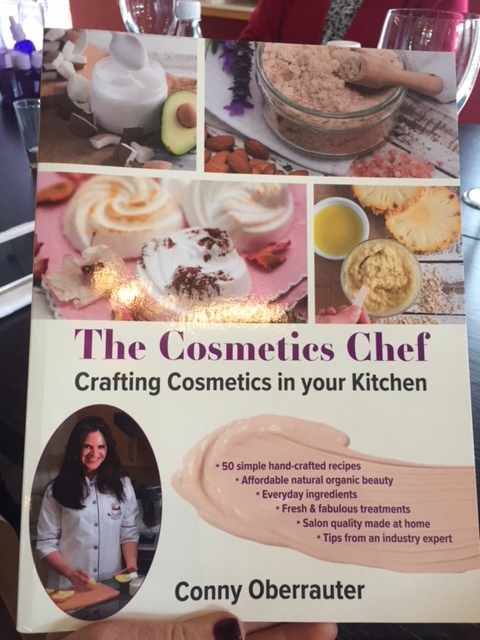 The Cosmetics Chef Recipe book
Let's face it, times are tough right now for everyone and every time the exchange rate drops, the prices of imported cosmetics goes up. So, why not just make your own? Conny's "Crafting Cosmetics in your Kitchen" book retails for only R350 and is full of simple recipes that you can make in your very own kitchen.
Most ingredients can be found in your regular supermarket or health store but in case you can't find something, Conny does sell specific ingredients on her site too.
In her book, you'll find 50 simple hand-crafted recipes, all of which are affordable, natural and organic and man of which are vegan.
To give you an example of the affordability, we made a 200ml serum for R230!! That is insane! A 50ml version of the same (i.e. containing the same amount of active ingredients) would have cost close to R900 in the shops and let's face it, the difference in cost, comes in the packaging and the retailer mark-up! (trust me, I know!)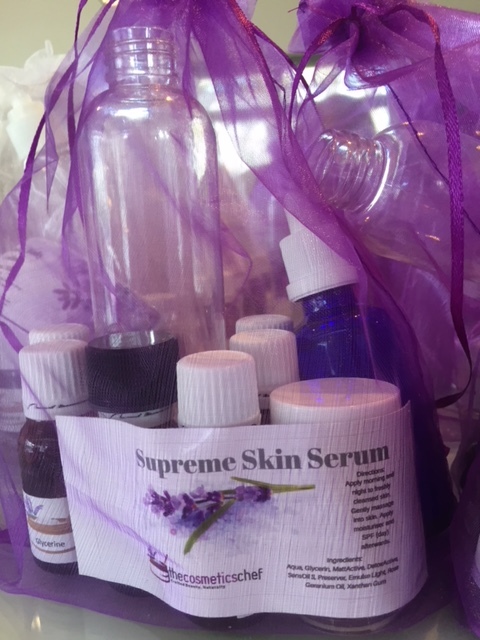 Her book or kits would also make an awesome gift for friends and family. I think I will be making a few jars of masks for my friends!
Conny runs workshops in Durban, JHB and Cape Town, so look out for them on her website and book your spot the next time she is down! Not only will you learn how to make something yourself but you will also, have a fun afternoon, drinking sangria, enjoying some home-made soup and get to pick Conny's brain with all the cosmetic questions you've ever had.
http://www.beautysavy.com/home/the-cosmetics-chef-how-to-make-your-own-serum